APMA State Advocacy Forum 2017 (in Utah)
12 May 2017

-

13 May 2017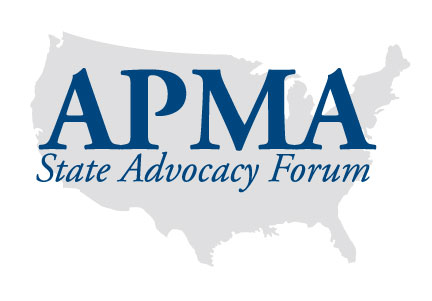 The APMA State Advocacy Forum is a biennial conference that provides an opportunity for state association leaders and representatives to discuss ongoing state legislative issues. The 2017 State Advocacy Forum will be held May 12–13 in Salt Lake City. This location was selected in recognition of the Utah Podiatric Medical Association's recent and continuing state legislative advocacy initiatives. 
APMA and the state components share the costs of this conference. APMA provides meals and covers the hotel costs of up to two attendees from each state, while the state component covers the attendees' transportation costs.
Registration
Register for the APMA State Advocacy Forum by April 20, 2017.
Agenda
Friday, May 12, and Saturday, May 13
Friday Schedule:
3:00–4:00 p.m.    Registration
4:00–6:00 p.m.    Evening Program
6:00–7:00 p.m.    Optional Networking Reception
Saturday Schedule:
7:00–7:45 a.m.              Breakfast and Welcome
7:45–11:00 a.m.            Morning Program
11:00 a.m.–2:00 p.m.    Afternoon Program and Lunch
2:00–2:30 p.m.              Optional Concluding Networking Program
The Center for Professional Advocacy (CPA) is hard at work planning the State Advocacy Forum; a more detailed agenda will be available in the upcoming weeks. 
Location
Salt Lake City Marriott at City Creek
75 South West Temple
Salt Lake City, UT 84101
Young Physician Scholarship Application
APMA continues to encourage young physicians to advocate on the federal, state, and local levels. State component societies have been asked to consider sending young physicians to represent the state component at the forum. Understanding the value of young physicians as the future of our profession and seeking to engage highly qualified and passionate members, the APMA Center for Professional Advocacy (CPA) will provide scholarships for up to three (3) young physicians to attend the forum.
Apply for the Young Physician Scholarship by March 31, 2017.
Materials from Earlier State Advocacy Forums
Members can view materials from the 2013 State Advocacy Forum and 2015 State Advocacy Forum. To see additional state advocacy resources, visit www.apma.org/StateAdvocacy.